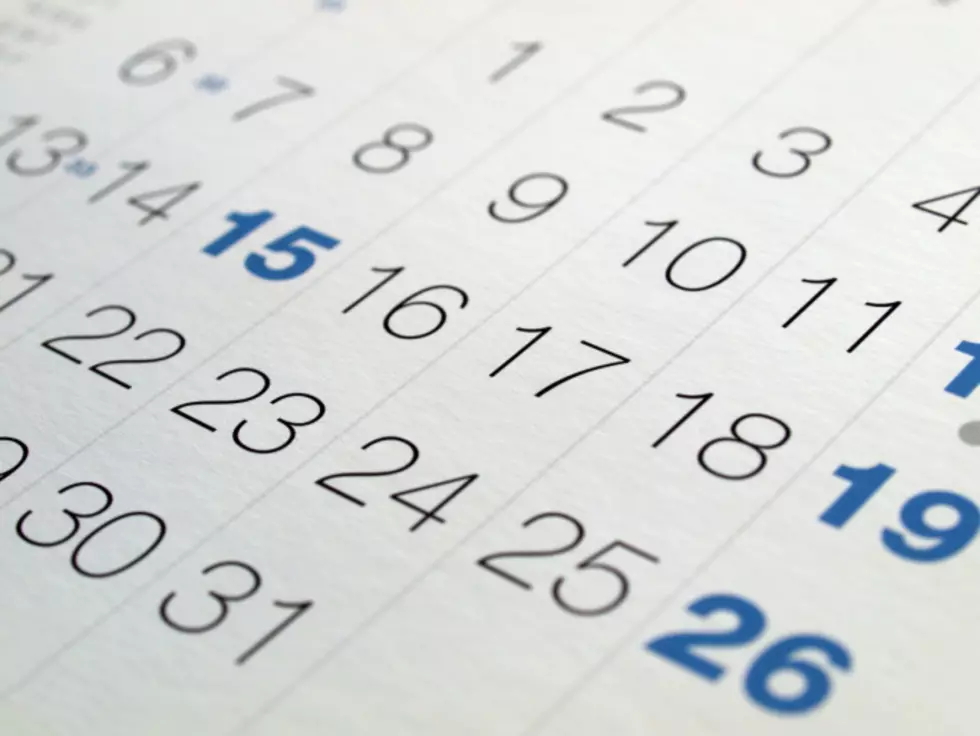 Mark Down These Important Dates for Quincy Events in 2015
ThinkStock
Here are key dates for some of Quincy's favorite annual events and activities in 2015. 
Jim McIsaac, Getty Images

Jim McIsaac, Getty Images

Great River Eagle Days takes place at the Oakley Lindsay Center and Lock & Dam 21 on January 17 - 18.

Wing Fest returns to the Oakley Lindsay Center on January 31 from 11 a.m. - 6 p.m.

The 2015 Y101 Bridal Expo will be held at The Ambiance  on January 31. The Bridal Expo features plenty of bridal booths, ranging from wedding cakes, gowns and tuxedos to reception music! There will be opportunities for future brides to win prizes, including a getaway trip for the wedding couple!

Andrew Redington, Getty Images

Andrew Redington, Getty Images

Quincy's Dogwood Festival will be May 2 - 3. The parade will begin at 9:30 on May 2. The parade starts at 24th & Maine and will travel to Washington Park.

The Gus Macker 3-on-3 basketball tournament returns to Washington Park May 23 - 24, 2015. Online registration will be available at Macker.com.

Blues in the District begins its 2015 season on June 12. June 26, July 10, July 24, August 14, August 28 and September 11 are also Blues in the District dates in 2015.

Washington Park will be filled with works of fine art, live entertainment, food vendors, and family activities June 26 - 28 during the annual Midsummer Arts Faire.

Smoke on the River will be serving up BBQ on Quincy's Riverfront September 12 - 13. Smoke on the River begins at 5p.m. on Friday, and 10 a.m. on Saturday.

Join local wineries for tastings and live entertainment during the Great River Grape Escape, Saturday, September 26 from 12 - 8, and Sunday, September 27 from 12 - 5.

The Quincy Rotary Club presents Oktoberfest in the Brewery District, 9th & York, from 12 p.m. - 10 p.m. on October 10.

Octoberfest Parade & Field Competition

Marching bands from around the area will participate and compete in the annual Octoberfest Parade and Field Competition on October 17. The parade travels down Maine St., and the field competition takes place at Flinn Stadium.

The Early Tin Dusters will return to downtown Quincy on October 17 - 18. Hours are 8 - 4 on Saturday and 10 - 2 on Sunday. Tin Dusters activities take place downtown, and at Upper Moorman Park.

Quincy Service League Holiday Gift Show

The Quincy Service League's annual Holiday Gift Show will kick off the holiday season in 2015 November 21 - 22. Hours are 10 -5 on Saturday and 10 - 4 on Sunday.
More From 100.9 The Eagle, The Tri-States' Classic Rock Station