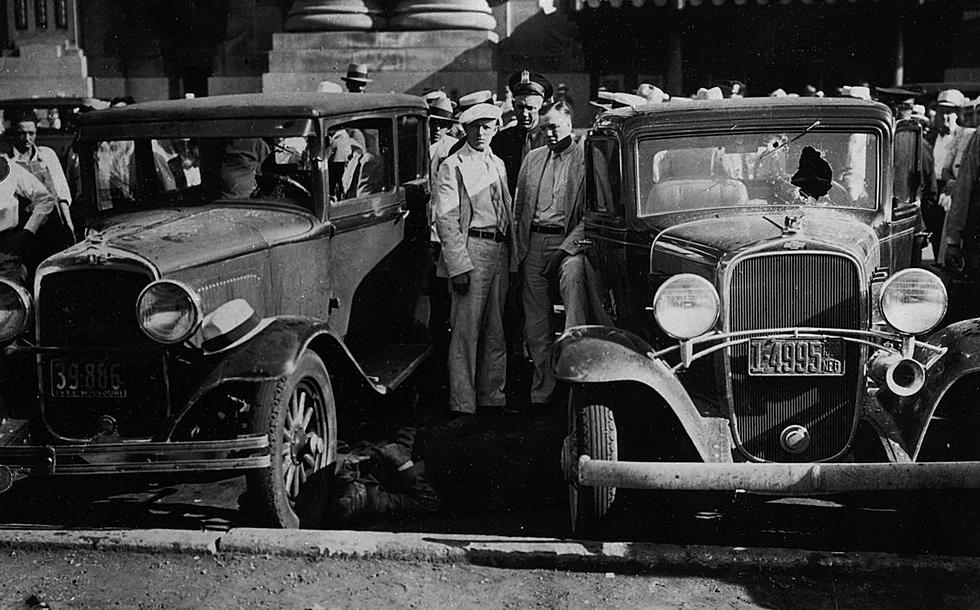 How Pretty Boy Floyd's Mass Murder in Missouri Changed America
FBI Kansas City via Twitter
America was a different place 90 years ago. Culturally it was at least on the surface a more innocent time. That changed on a June morning in 1933 when a mass murder by Pretty Boy Floyd left bullet-riddled vehicles in front of the Kansas City railroad depot.
The FBI in Kansas City shared a somber reminder of what happened the morning of June 17, 1933.
The ordeal is much more complicated than just a simple mob hit. Frank Nash, a friend of Pretty Boy Floyd and his cohorts, was a federal prisoner. Federal agents were in the process of returning him to the jail which he had escaped from. He was to arrive in Kansas City by train early in the morning of June 17, 1933. Richard Tallman Galatas, Herbert Farmer, "Doc" Louis Stacci, and Frank B. Mulloy. Vernon Miller had decided to break Nash free when the train arrived and Pretty Boy Floyd and Adam Richetti were the trigger men.
When the federal agents and Frank Nash arrived at the station, special agents looked around and didn't notice anything suspicious so they waved two cars around in front of the depot. They loaded Nash into the front seat of one of the cars while the agents got in the back and driver's side.
Suddenly, they saw two men run from behind the cars and they saw the machine gun. Tragedy was upon them.
The FBI shared what happened once the gunfire stopped:
From their account, it was apparent that the two Kansas City Police Officers were killed immediately, followed seconds later by Frank Nash and Chief Reed and then by Agent Caffrey, who was taken to a hospital and pronounced dead on arrival.
What would become known as The Kansas City Massacre was complete. Pretty Boy Floyd escaped that day, but would meet his end in Oklahoma in October of 1934 when agents riddled his vehicle with gunfire in a similar fashion to what he had done the previous year in Kansas City.
The tragic incident in Kansas City ended up helping the FBI in the long run as they said "Congress responded by giving us new tools to fight crime—including statutory authority to carry guns and make arrests". What began as a plot to free a gangster friend resulted in a change to America. It lost a lot of innocence that June 1933 morning, but the crime fighters were eventually given new means to make sure it wouldn't happen again.
This Lovely Home Once Belonged to a Real Life Michigan Gangster
You don't have to be a gangster to live in this Detroit home built in 1928, but it could bring peace of mind knowing that your house is 'gangster ready' in the event your life takes an unexpected turn.
According to the
Detroit Free Press
, this home located in the historic Palmer Woods residential district, once belonged to Joseph Burnstein. Burnstein and his brothers were notorious members of the Purple Gang in the 1920s, reputed for wreaking havoc in the city during Prohibition.
It's listed by Realtor.com for $749,000.
Gangsters Al Capone and John Dillinger
The two infamous gangsters both dined at the Lighthouse Inn in Cedar Rapids, that's been in business since 1912.
More From 100.9 The Eagle, The Tri-States' Classic Rock Station