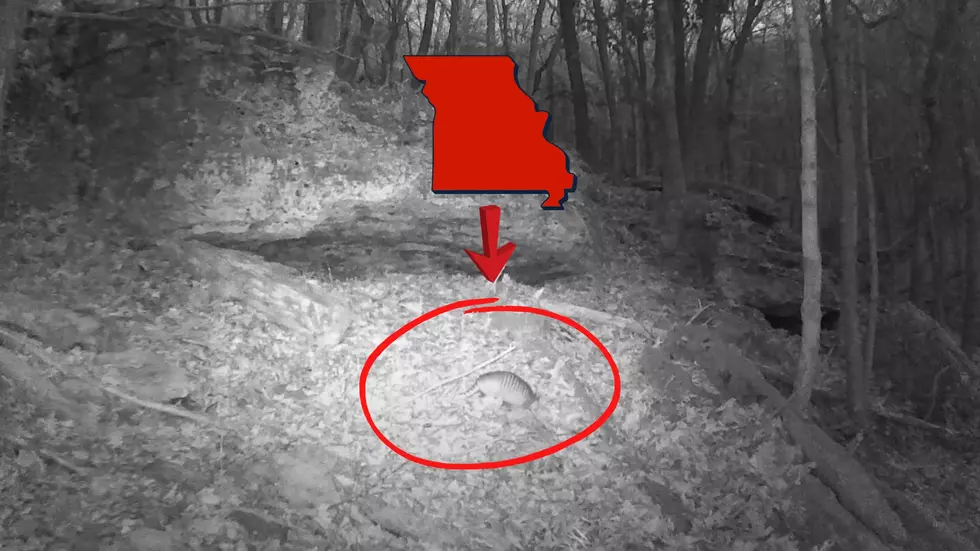 New Trail Cam Video Shows Armadillos More Common in Missouri Now
Trail Cam Daddy via YouTube/Canva
When I think of armadillos, I immediately think of Texas. Maybe I should reconsider as a recent trail cam video in Missouri shows these armored critters are becoming more common in the Show Me State now.
This new trail cam share doesn't come from extreme southern Missouri either. It was captured in September around Eureka, Missouri as this video description confirms:
Video from my trail camera in Eureka Missouri near the Chubb Trail. In this clip we caught a rather large armadillo playing
He does seem to be enjoying himself...or is that herself?
The University of Missouri Extension Service confirms that armadillos are indeed becoming more common in the state. The issue that they seem most concerned with is lawn damage that these critters can inflict. They say that they dig holes similar to moles and can really mess up landscaping if they happen to encounter your property.
Should you be afraid of armadillos?
Bob Vila says no and Bob Vila would know, right? He does mention that their burrows can be up to 24 feet in length. Not great for yards or golf courses. The good news is that while an armadillo can bite if they feel threatened, they really aren't a threat to humans other than possible diseases they could be carrying.
Might as well get used to the reality of armadillos in Missouri as they are not just a southwestern US or Texas animal anymore.
See Inside a Massive $15 Million Dollar Missouri Horse Ranch
More From 100.9 The Eagle, The Tri-States' Classic Rock Station