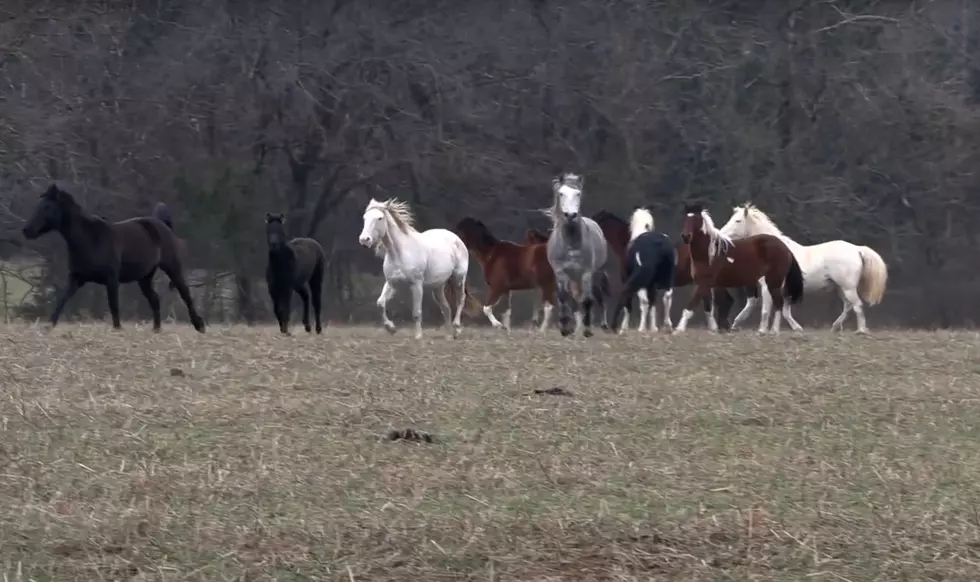 Watch Missouri's Rocky Creek Herd of Wild Horses Running Free
Tim Layton via YouTube
There was a time when Missouri was truly wild. The wild horses of Shannon County are one of the last vestiges of that. There's new video showing the Rocky Creek herd from that region who still run free to this day.
Tim Layton is the most reliable person I know of that documents the activities of Missouri's wild horses. He even has a Facebook page called the Wild Horses of Shannon County. Tim often shares updated videos of the Rocky Creek herd including this encounter from just a few weeks ago on January 8, 2023.
A week later, Tim caught up with the herd once again and it looks like many were as curious of him as he is of them.
Tim mentions on his website that the Rocky Creek herd is one of the more elusive group of wild horses in Missouri as they normally stay in the rugged and rocky parts of the state where most people aren't.
This wild horse herd roams the wilds to the northeast of the Eminence, Missouri area. Tim shares some maps of the area showing some of the more likely viewing areas for these wild horse herds.
The city of Eminence estimates there are only around 20 wild horses that still run free in their part of Missouri. That's one of the reasons why groups have risen up to protect these precious animals. The wild horses of Shannon County have been running the land free for 100 years and let's hope that never ceases to be true.
See Inside a Massive $15 Million Dollar Missouri Horse Ranch
More From 100.9 The Eagle, The Tri-States' Classic Rock Station