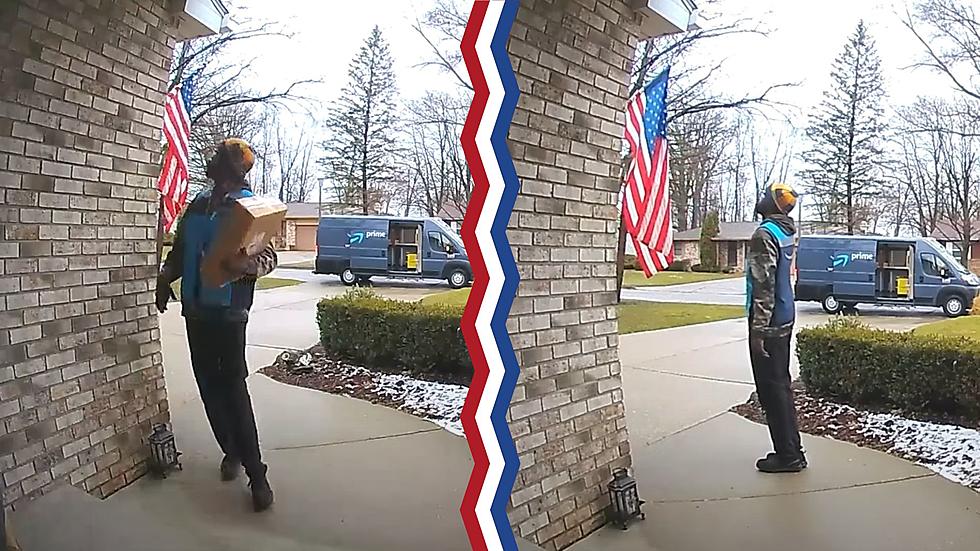 Watch a Patriotic Midwest Delivery Guy Fix a Flag Then Salute It
ViralHog via YouTube
There's not enough honor in the world today. There, I said it. However, there is hope among us as a security camera video shows a delivery driver in the Midwest see a broken American flag mount, fix it then salute it.
This patriotic moment happened just a few days ago in Saginaw, Michigan. Here's the backstory from the home owner who noticed this man's honorable gesture on their Ring doorbell camera:
This video was captured on our Ring doorbell camera on Saturday, March 25. As Amazon driver dodged our gently waving American flag on the way to our porch, he looked up momentarily and then proceeded to place our package by the door. After delivery, he took a moment to unravel the flag, straighten it out, and took few steps back and tightly saluted the flag. My husband was just getting home from work and was quite certain of what he saw, but we watched it together on the captured Ring video, and both got teary. With this small action of the driver so beautifully contrasting the actions of so many people and groups in regard to our flag, our hearts were touched and we wanted to share this video to: 1. recognize the driver, and 2. share some good within our community. Hundreds of thousands of soldiers and civilians have fought to preserve our liberty. We need more reminders of this service that we all take for granted. We learned the name of the driver and have been in contact with him...a proud vet...who took the time to do a 'little thing' that means the world to many of us.
We agree with everything they said. This man's gesture should be honored.
There's so much to love for this. He had no idea anyone was watching, but could not stand the thought of an American flag being dishonored. Not only did he fix it, but saluted it also. This delivery man deserves a raise...and our praise for his selfless effort.
Help Reunite Missouri Veterans with their Lost Medals
More From 100.9 The Eagle, The Tri-States' Classic Rock Station