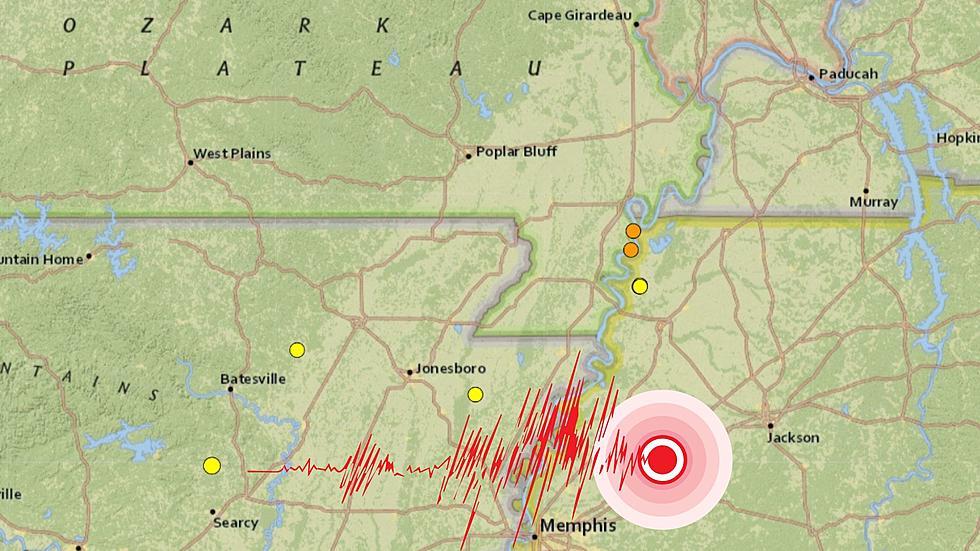 Mini-Swarm of 9 Quakes Have Shaken New Madrid Fault Last 7 Days
USGS/Canva
The New Madrid Fault area along Missouri, Arkansas, Illinois and Tennessee is a wildly unpredictable seismic area. It can be completely quiet for days then suddenly show activity. That happened over the past week as a mini-swarm of 9 quakes have been recorded.
I saw a handful of quakes appear on the USGS shake map this morning and decided to look at what's been happening near the New Madrid for the past week.
Not really a big deal as none of these quakes was reported felt by many with the largest being only a 2.4 magnitude quake on April 11, 2023.
You might recall that the New Madrid Fault was eerily quiet in March with a below average number of quakes after it registered it's largest quake of 2023 back in February.
Is this irregular activity something to be concerned about? Nope. The New Madrid Seismic Area is unpredictable. We live in a seismically-active part of America and small quakes like this happen all the time and are to be expected. The quakes I get concerned about would include the strange one that occurred last week along the Illinois/Indiana border. Earthquakes don't normally happen there.
The mini-swarm of 9 quakes along the New Madrid Fault over the last 7 days is interesting, but just an interesting footnote at the moment. You can check the USGS Earthquake track map yourself if this type of Earth science interests you.
The Strongest Earthquakes in East Texas History
Here's a look (in no particular order at some of the strongest earthquakes in East Texas in modern history. Some of these tremors were centered in East Texas, while the epicenters of other quakes were in neighboring states, but the effects were felt in East Texas.
More From 100.9 The Eagle, The Tri-States' Classic Rock Station