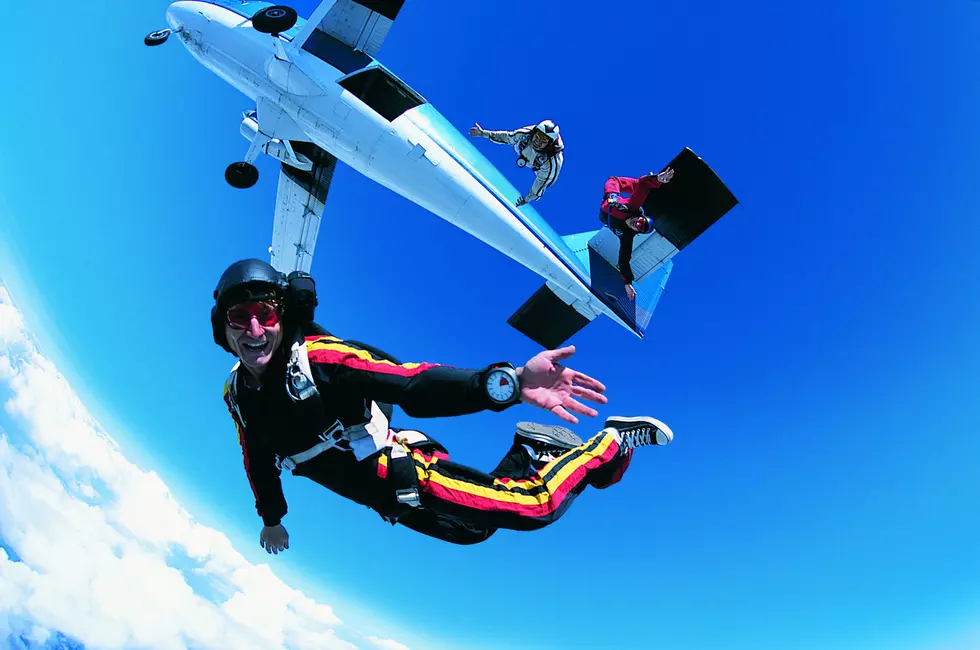 Have you ever… Take our quiz!
27786
You see these little quizzes on Facebook all the time. I never do them. For some reason, this one caught my eye. Life is all about the experience, right? This quiz asks about the experiences that have helped shape your life.
I feel like I have been blessed by more experiences than many people because of my job in television for 20 years. If I hadn't been assigned to jump out of a plane strapped to a dude named Fast Eddie, chances are very good that wouldn't have happened in my lifetime. My first ride in a helicopter was part of a drug sting. I did that again to witness the flood waters in 1993. Even a lot of the travel I've done, from touring New England, to a trip through the Napa Valley, to our trip to Hawaii was in conjunction with KHQA. I could have never afforded that on my own. The two things on this list that I'd still like to do is downhill ski and see the Grand Canyon.
Dorsey and I took this quiz together. Regular listeners know I have a mean competitive streak and I'm happy to report that I won with a score of 47-45.
My answers are marked with an asterisk*. Take the quiz and let us know your score!
Been Married*
Been divorced
Fallen in love*
Skipped school*
Watched someone give birth*
Watched someone die*
Been to Canada*
Rode in an ambulance*
Been to Hawaii*
Been to Europe*
Been to Las Vegas*
Been to Washington D.C.*
Been to Texas*
Visited Florida*
Visited Mexico*
Seen the Grand Canyon in Person
Flown in a helicopter*
Been on a cruise*
Served on a jury
Danced in the rain*
Been to California*
Been to New York*
Been to Memphis*
Been to Cuba
Played in band/orchestra in School
Sang in the school choir
Sang karaoke*
Laughed so much you cried*
Laughed so hard you pee'd*
Caught a snowflake on your tongue*
Had children/child*
Had a grandchild
Had a pet(s)*
Been sledding on a big hill*
Been downhill skiing
Been water skiing*
Rode on a motorcycle*
Traveled to all 50 states*
Jumped out of a plane*
Been to a drive-in movie*
Rode an elephant*
Rode a Horse*
Been on TV*
Been in the newspaper*
Been on the radio*
Stayed in the hospital alone*
Donated blood*
Got a piercing*
Got a tattoo
Driven a stick shift vehicle*
Been scuba diving*
Lived on your own*
Rode in the back of a police car
Got a speeding ticket*
Broken a bone*
Had stitches*
Traveled alone*
Shot a gun*
What Are the Signature Drinks From Every State?
More From 100.9 The Eagle, The Tri-States' Classic Rock Station