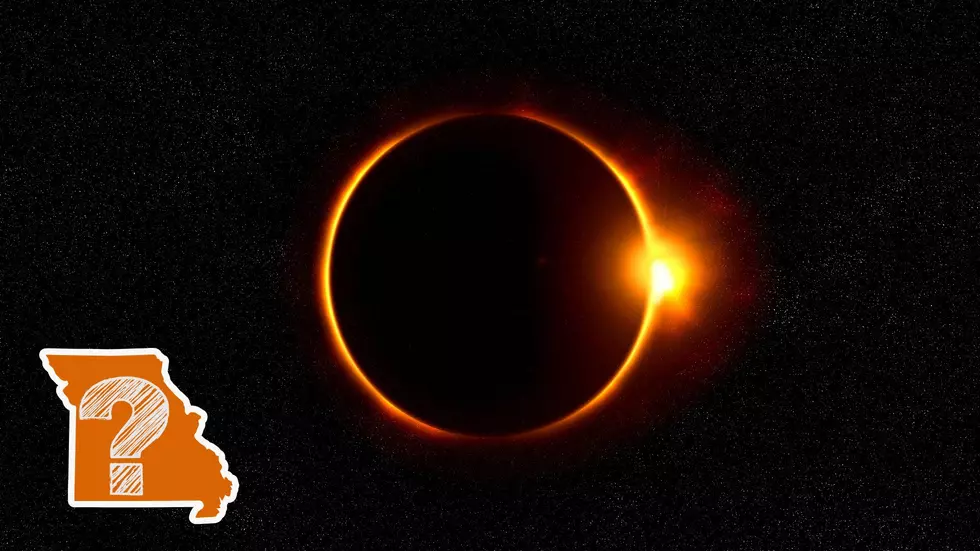 Best Place in Missouri to View the Super-Rare 2024 Solar Eclipse?
Canva
It will be 4 minutes and 27 seconds of history when the sun eclipses over the middle of America in 2024. Where's the best place in Missouri to view it from? Let's find out.
The are several great resources for the super-rare total solar eclipse on April 8, 2024. One is the Great American Eclipse website and the other is National Eclipse. It says that "totality will begin in Texas at 1:27 pm CDT and will end in Maine at 3:35 pm EDT". Let's see what time that means for us and where's the best place to view it. Here's the eclipse path across Missouri as shared by the Great American Eclipse website:
The best place to view the eclipse will be in Cape Girardeau, Missouri where partial eclipse will begin at 12:41pm. Totality begins in Cape Girardeau at 1:58pm. The partial eclipse will end at 3:17pm.
If you can't find a good spot in Cape Girardeau, Missouri, you can cross the river to Carbondale, Illinois where the solar eclipse will begin at 12:42pm with totality reached at 1:59pm.
If you recall, Festus, Missouri was one of the prime Missouri locations for the last great solar eclipse in August of 2017.
It's still a ways off, but best to start planning now as hotels/motels will likely get jammed in both Cape Girardeau, Missouri and Carbondale, Illinois the closer we get to April 8, 2024. It will quite literally be a once-in-a-lifetime event for Americans to watch the sun and moon amaze. Now, let's hope the skies are clear that April day.
See Inside a Hidden Missouri Cabin that Has Epic Night Sky Views
More From 100.9 The Eagle, The Tri-States' Classic Rock Station