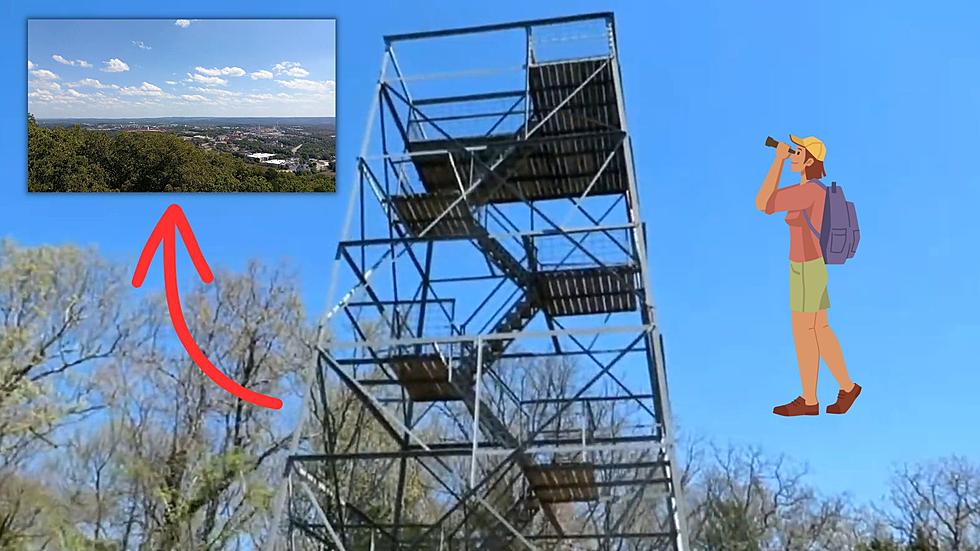 Yes, You Can Climb this Missouri Lookout Tower and See for Miles
Kevin Montgomery/Tri-Star Travelers via YouTube/Canva
There are many lookout towers in our national forests that are off-limits. However, there is one in Missouri that you really can climb and the view from the top of it is stellar.
Have you ever adventured on the Dewey Bald Lookout Trail? It's one of the few places that you can actually climb an old lookout tower although the weight limit is 10 people max. Only In Your State recently called the area a "natural wonder" and they're not wrong.
The view from the top of the tower is jaw-dropping.
The one thing I love about the Dewey Bald Lookout Trail is its accessibility. You don't have to be a seasoned hiking pro to visit this place. It's less than a mile in length and takes less than 20 minutes to complete as All Trails mentions. Even a somewhat large family can climb the tower together with no problems if you time it right and don't run into a crowd up top.
The Dewey Bald Lookout Trail is a very kid-friendly place which overlooks Branson. You can see nearly all of the glitzy downtown area from the top of the tower. It's one of the few towers remaining in Missouri where visitors are welcome to take in its sights.
Amazing Pictures Shows Colorado Elk Climbing Up a Glacier in RMNP
Look at these amazing pictures of a Colorado elk climbing up a glacier in Rocky Mountain National Park after drinking from a lake at the bottom of the glacier.
20 Things You Need to Know Before Climbing One of Colorado's 14ers
For many, there is an inescapable draw to the idea of climbing a Colorado 14er. Before setting out on this adventure, though, there are a number of things you need to know.
More From 100.9 The Eagle, The Tri-States' Classic Rock Station