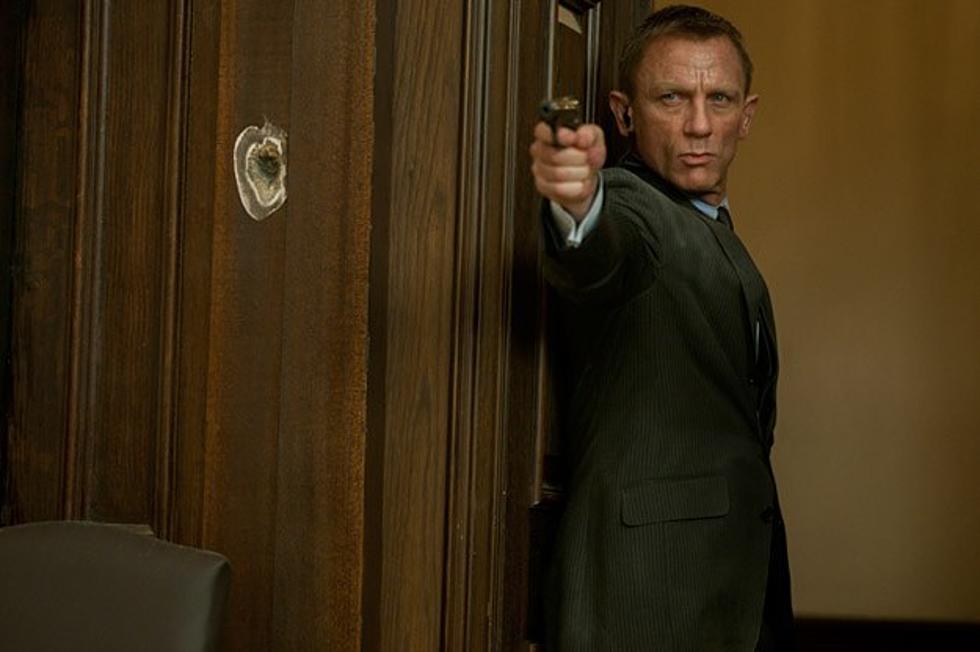 Weekend Box Office Report: 'Skyfall' Breaks Bond Records
Sony Pictures
It was a given: 'Skyfall' was going to win the weekend no matter what. What wasn't a given was 'Skyfall' shattering the opening weekend record for its franchise and positioning itself to become the most successful film in history of the James Bond films. 007 is back and after 50 years, he's showing no signs of slowing down.
Film
Weekend
Per Screen
1
Skyfall
$87,800,000
$25,050
$90,000,000
2
Wreck-It Ralph
$33,056,000 (-32.6)
$8,810
$93,690,000
3
Flight
$15,100,000 (-39.4)
$7,377
$47,770,000
4
Argo
$6,745,000 (-33.9)
$2,441
$85,711,000
5
Taken 2
$4,000,000 (-32.4)

$1,608
$131,287,000
6
Here Comes the Boom
$2,550,000 (-27.7)
$1,248
$39,061,000
7
Cloud Atlas
$2,525,000 (-53.1)
$1,248
$22,712,000
8
Pitch Perfect
$2,504,000 (-18.3)
$1,800
$59,030,000
9
The Man With the Iron Fists
$2,490,000 (-68.5)
$1,330
$12,718,000
10
Hotel Transylvania
$2,350,000 (-46.7)
$916
$140,904,000
To put the $87 million opening weekend of 'Skyfall' into greater perspective, the previous franchise record holder was 'Quantum of Solace,' which opened to $67 million in 2008. Old record, meet hammer. The popularity of Daniel Craig's James Bond is further evident when you compare this to the $40 million opening of 'Casino Royale' in 2006. It's almost difficult to remember that the casting of Craig and the semi-reboot of the series was considered a risky proposition at one point -- the popular and critical response to Craig's tenure as Bond has paid off in dollars. Despite its tepid reception, 'Quantum of Solace' is the highest grossing Bond film of all time with $168 million, but expect 'Skyfall' to shatter that. In fact, this could be the first 007 adventure to crack $200 million at the box office and the first to get within spitting distance of a $1 billion worldwide. To be fair, no Bond film will ever touch 'Thunderball' when you take inflation into account, but this is about as close as anyone will get.
Although 'Skyfall' wiped the floor with most of its competition this week, 'Wreck-It Ralph' held strong, dropping only 32% and grossing $33 million. With $93 million in the bank and word of mouth still incredibly strong, $200 million is a definite possibility (it'll most certainly outgross 'Hotel Transylvania's $140 million) It has the next week and a half's worth of family audiences to itself...but 'Rise of the Guardians' arrives on the 21st and then all bets are off.
In the third spot, 'Flight' took a big but not disastrous 39% drop, earning $15 million for a total of $47 million. Not bad, but not great either. Denzel Washington films have a habit of stretching themselves to reach the $80-$100 million range, so if audiences are kind, 'Flight' will have legs in the coming weeks. Heck, it happened for 'Safe House' and no one liked 'Safe House.'
In the fourth spot, 'Argo' continued to prove that box office success doesn't have to be a sprint: it can be a marathon. With another $6 million over the weekend and a total of $85 million, Ben Affleck's Oscar favorite will undoubtedly cross the $100 million mark in the next two weeks or so. This is a big victory for not only Affleck's sterling directorial career, but for people who like good movies that don't cost $200 million.
The fifth and sixth spots are filled with films that are practically anomalies at this point. First, there's 'Taken 2,' which has held the fifth slot for three weeks now, holding steady while other films dropped past it. The numbers haven't been revelatory, but the film's steady legs have put it closer to its predecessor's gross than anyone could have predicted. In the sixth spot, 'Here Comes the Boom' once again didn't make much money, but this is its fourth week of hanging out in the top ten while not making much money. Through sheer endurance, it has achieved an almost respectable gross.
The bottom half of the top ten has no few positive tales. 'Cloud Atlas' is ready to end its run as one of the biggest bombs of the year, immediately painting it in the same colors as 'John Carter' and 'Battleship.' Unlike those two, it'll be a film everyone will turn around and love in a decade, but that's a victory for another day. And then there's 'The Man With the Iron Fists,' which dropped a devastating 68% for a weekend gross of $2 million.
Not everyone can be Bond.
Next week will see the arrival of 'The Twilight Saga: Breaking Dawn Part 2.' It'll surely win the weekend, but expect Bond to hold on tight and put up a fight. That's what he does best.
More From 100.9 The Eagle, The Tri-States' Classic Rock Station