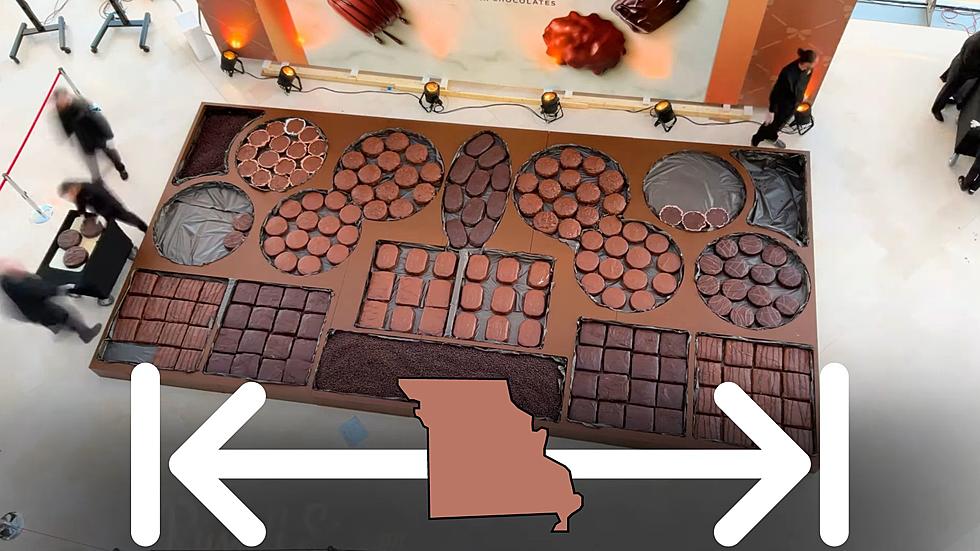 Largest Box of Chocolates World Record Just Shattered in Missouri
Russell Stover via YouTube/Canva
The world record for the largest box of chocolates is back where it belongs. Thanks to a herculean effort, you now won't find a bigger box of chocolates in the world than you'll find in Missouri.
Russell Stover announced in a press release that they just shattered the Guinness Book of World Records mark for largest box of chocolates. The box of real chocolates they built measures "30 feet 4.5 inches wide by 15 feet 5 inches tall" and contains over 5,000 pounds of chocolate. Willy Wonka would be so proud.
This breaks a 15 year-old world record that was set in the United Kingdom where a box of chocolates measuring 16 feet 6 inches long by 11 feet 2 inches wide and held 3,725 pounds of chocolate was created.
This monstrosity of chocolate goodness was made inside the Kauffman Center for the Performing Arts in Kansas City.
"We wanted to do something really special to celebrate our 100th anniversary," said Niccolo Starace, president and CEO at Russell Stover Chocolates, "and what could be more special than breaking a GUINNESS WORLD RECORDS title?
Best of all, the world record for largest box of chocolates was done as part of an event benefiting "Feed the Children, a nonprofit committed to providing food and resources to children and families without life's essentials" as stated in the press release.
Well done, Russell Stover Chocolates. This was a record that should always remain within the borders of Missouri where chocolates have been created for a century now.
LOOK: 20 American foods that raise eyebrows outside of the US
Stac



ker
compiled a list of 20 unusual and uniquely American foods that might raise eyebrows outside the U.S.
15 MUST-HAVE Items To Get For Your Food Storage
Affordable must haves for your food storage/emergency preparedness kits
More From 100.9 The Eagle, The Tri-States' Classic Rock Station