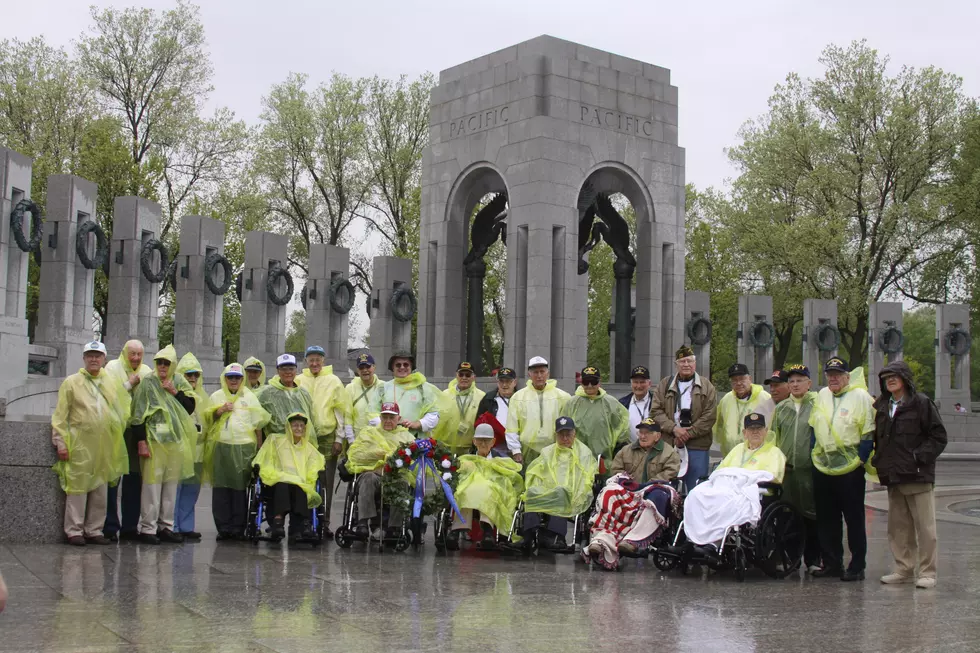 Great River Honor Flight's 35th Mission is April 21st
Great River Honor Flight
The first mission of 2016 for the Great River Honor Flight program will focus on the 126th Unit of the Illinois Army National Guard who served in Vietnam in 1968-1969.  The group, whose members still meet bimonthly at Cedar Crest Country Club, approached the Great River Honor Flight about 18 months ago to see if it was possible for the group to travel as a unit on a future Honor Flight.  A number of meetings and communication have taken place over the past year to work out all the details to make this happen.  Thursday, April 21 that request will become a reality.  A total of 68 veterans will head to Washington, D.C. along with 49 guardians, many of which are relatives of the veterans.
This is the 35th mission overall since the program started back in 2010 and will continue to increase the total number of local veterans who have flown to Washington DC for free to over the 1,100 mark.  The trip will depart from John Wood Community College around 2 a.m. on April 21.  The 68 Veterans and their Guardians will travel by Charter Bus to St. Louis Lambert International Airport where they will board a flight to Baltimore and then on to our nation's capital.
This will be a unique trip since normally veterans are made up of various conflicts and typically represent all three states in our region (Illinois, Missouri and Iowa) as well as various branches of the military.  On this trip, with the exception of one veteran who served in the Navy during WWII, and is the father of a 126th member, all other veterans are from the Army National Guard unit and served in Vietnam.
"We are very pleased to start the 7th year of Great River Honor Flights with such a unique group," said Carlos Fernandez, Chairman of the Great River Honor Flight Board.  The pre-work and coordination that has gone into the preparation for this flight is like none other that we have previously done."
The first stop will be at the Vietnam Memorial.  There the group will be able to pay respect to their comrades who are no longer with them.  This stop will also include visits to the nearby Korea Way and Lincoln Memorials.  Next on their itinerary is a stop at the World War II Memorial, which sits next to the Washington Monument and where a group picture will be taken.
Other stops later that day include the Iwo Jima Memorial dedicated to that WWII battle and the Marines who fought there plus an emotional visit to Arlington National Cemetery. Next is a visit to Arlington National Cemetery and seeing the changing of the guard at the Tomb of the Unknown Soldier.
The trip will end with a visit to the Air Force Memorial that overlooks the Pentagon and Washington DC where they will also enjoy dinner prior to returning to Reagan National for their trip home.  The direct flight will take them back to St. Louis where they will board a bus for the trip to Quincy.  The expected arrival time will be around 10:30 p.m. at John Wood Community College.
To date Great River Honor Flight, the Tri-States' hub of the Honor Flight program has flown 1,069 local Veterans to Washington D.C. since it was established in October of 2009.
The Great River Honor Flight offers one-day trips to Washington, D.C. for these local heroes at no cost to them.  Great River Honor Flight, a Missouri Nonprofit Corporation established in October of 2009, was created solely to honor America's veterans that live in our area for all they have sacrificed by providing, free of charge, transportation to Washington D.C. to visit the memorials dedicated to honor their service and sacrifices.
For additional information, contact Carlos Fernandez at 217-228-6600.
More From 100.9 The Eagle, The Tri-States' Classic Rock Station