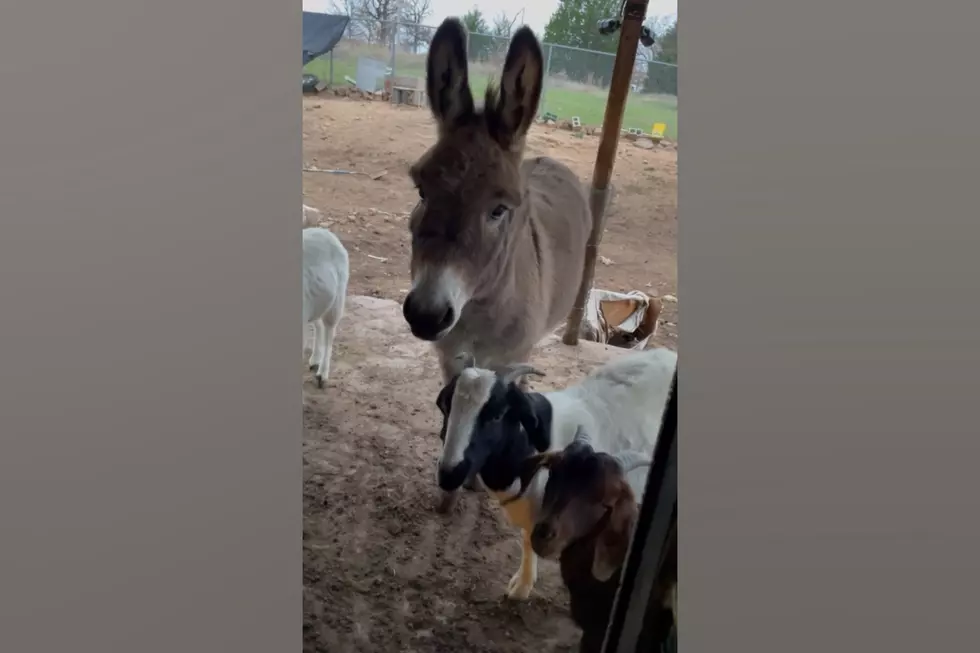 Watch Midwest Donkey Named Leo Knock on the Door for Attention
ViralHog via Rumble
Knock, knock. Who's there? It's Leo a Midwestern donkey who keeps knocking on his owner's door when he feels that he's not getting enough attention.
This fun video was just shared out of Mounds, Oklahoma. It features a mini-donkey named Leo. His owner explained what happened in their video share:
We kept hearing random knocking only to discover it was Leo, my 3-year-old mini donkey. He sure knows how to keep us on our toes.
It looks like many times Leo brought the whole dang barnyard with him, too.
If you're thinking "wow, I just can't live without a mini-donkey of my own", I'm here to help. There's a website called Storyteller Travel that shared 27 cute miniature donkey facts and tips. They describe them as "sweet, gentle, curious, playful, and highly trainable" and cost anywhere between $500 to $2,000 to own. That doesn't include the amount of money you might end up spending on door repair if he/she decides to use the hoof to knock on the door when you don't give him or her enough donkey attention.
See Inside Illinois Tiny Airbnb with Catfish, Deer & Butterflies
See a Dreamy Missouri Lake Home Right Across from Margaritaville
More From 100.9 The Eagle, The Tri-States' Classic Rock Station