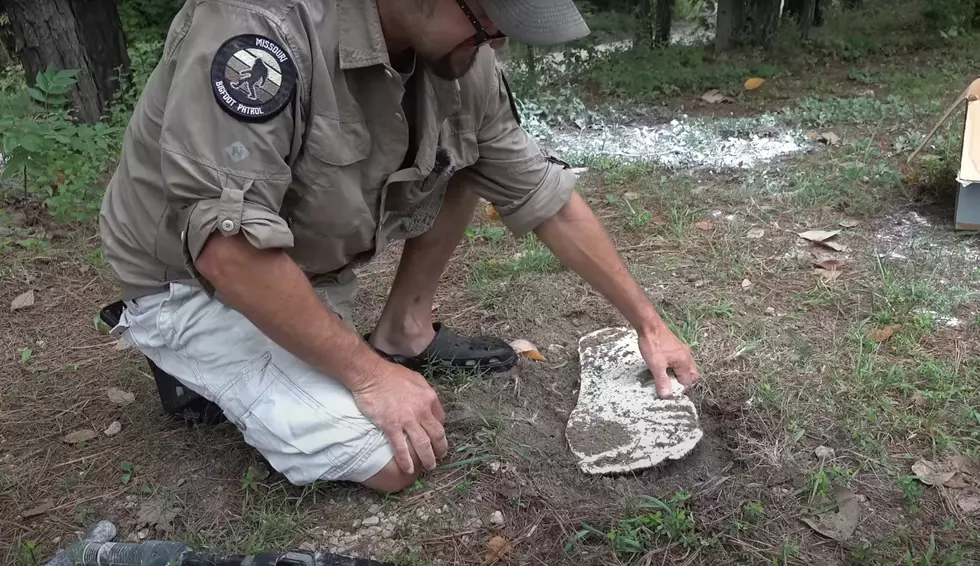 Missouri Man Says Woods 'Loaded with Bigfoot' – Found Footprints
Sasquatch Theory via YouTube
If you'd like to potentially see Bigfoot/Mo-Mo/Sasquatch or whatever name you'd like to give this legendary creature, there's an area in southeast Missouri you should know about. One eyewitness claims that the woods there are so "loaded with Bigfoot", he calls it Monkey Mountain.
This somewhat recent episode of Sasquatch Theory which I somehow missed when it was first shared last summer documents an encounter that Bill and his wife had on a gravel road not that far from the Rockpile Mountain Wilderness in Missouri. He said that it happened around 3:20p in the afternoon...broad daylight when they turned a corner and saw a large hairy creature crossing the road in front of them. He could only see the lower parts of the beast, but could tell that it was much too large to be a bear.
He stated that this part of the woods in Missouri is not that far from a creek and at the time they were in the middle of a blistering period of summer heat, so he speculates that the creature may have been heading toward the water source.
This was not the only Bigfoot encounter that Bill claims he had. He saw another running on all fours across the road chasing a deer and another behind his house. That encounter happened at night. He could only see the big pointed hairy head.
Researchers who investigated Bill's claims verified that he was not imagining things as they found tracks and made plaster casts of one.
What in the Rock Pile Wilderness in Mark Twain National Forest could leave a track that big? Investigations continue into the creature that exists in these woods. Bigfoot, Mo-Mo or something else entirely? Time will tell.
See Inside a 176-Year-Old Missouri Castle You Can Really Stay In
More From 100.9 The Eagle, The Tri-States' Classic Rock Station