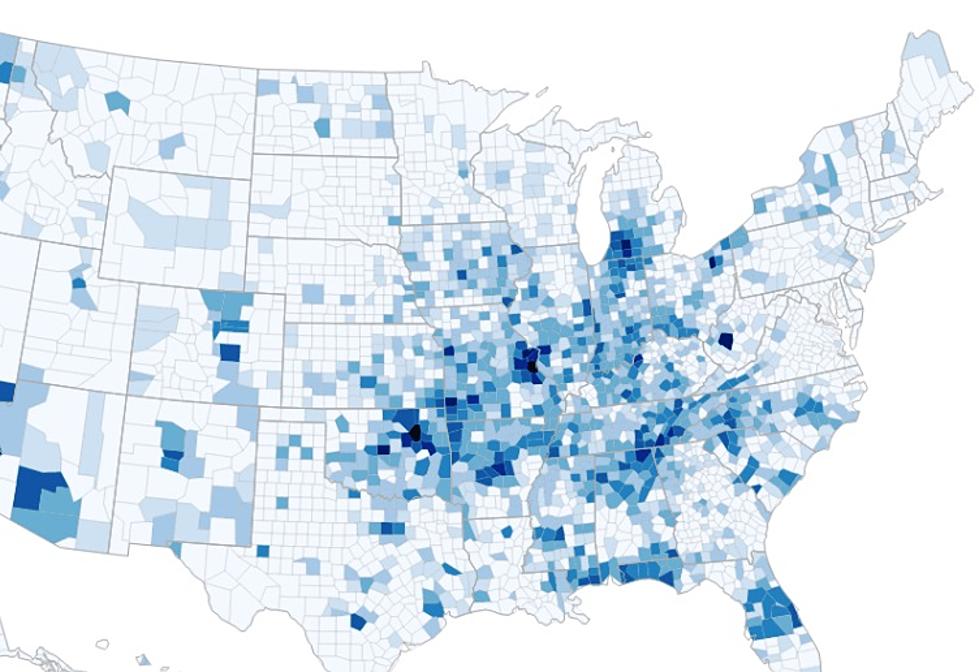 Map Showing Meth Labs Per County is Depressing for Missouri
u/TooHigh2Die420, Reddit
I try to live in reality, but honestly there are moments like this that I'd prefer to live in denial. There's a new map that shows the percentage of meth labs per county and it's nothing short of depressing for the tri-state area and especially northeast Missouri.
I saw this shared on the Missouri sub-Reddit page. It's a map that more or less speaks for itself. In simplest terms, the darker your county, the worse off your meth problem is. You'll see that most of our counties in Missouri, Illinois and Iowa are very blue (in more ways than one).
Believe it or not, it gets worse. Rehabs shared data a few years ago showing the map of neighborhood drug dens displaying the likelihood of you living near a meth lab. It's pathetic.
There could be a silver lining to this meth cloud. World Population Review infers that Missouri's meth issues MIGHT be improving. Meth Use By State in 2021 shows that Missouri is no longer in the top 10 for meth-related seizures. It's sad that's considered good news.
It was less than 2 years ago that the Columbia Daily Tribune reported that Missouri was still #1 at that time for meth production so maybe not celebration time yet.
No matter what the exact numbers are, it's obvious that we still have a long way to go in this area to make sure our area stops being so blue on maps like this. We can only hope.
LOOK: Here are the best small towns to live in across America
LOOK: Here is the richest town in each state
Just saying the names of these towns immediately conjures up images of grand mansions, luxury cars, and ritzy restaurants. Read on to see which town in your home state took the title of the richest location and which place had the highest median income in the country. Who knows—your hometown might even be on this list.
More From 100.9 The Eagle, The Tri-States' Classic Rock Station