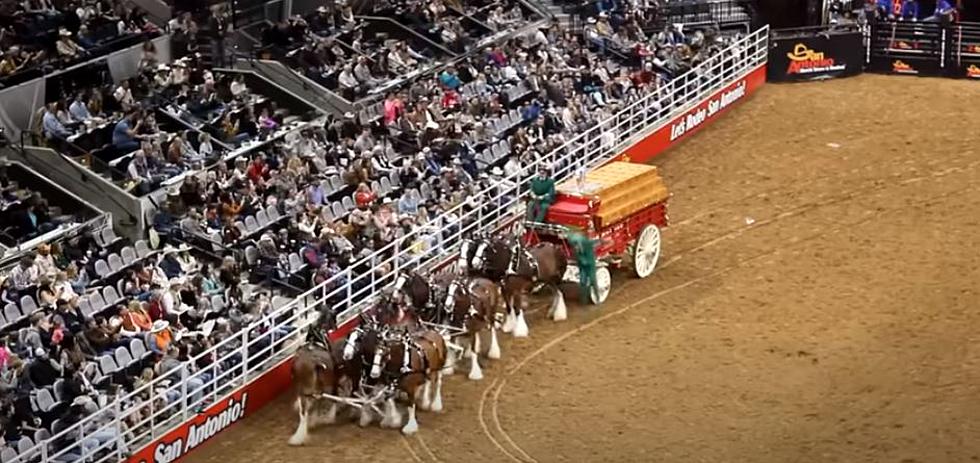 Watch Scary Scene of Missouri Clydesdale Causing Pile-Up at Rodeo
YouTube/Model Horse Tack School
The beautiful Clydesdales we all love and admire and known for their grand entrances at baseball games, Super Bowls, and even rodeos. During a rodeo appearance, things took a turn for the worse.
The famous Clydesdales were making an appearance at a Texas Rodeo when tragedy struck one of the horses. At first, everything seems perfect, but then one of the lead horses got turned around and stumbled causing a pile-up and falling to the ground.
Trainers and handlers rushed to the scene hoping that the horse was ok.
At first, you can see the horses get turned around and one fall, and a BIG shout out to the handlers and trainers who ran as soon as the horses started to get tangled. It took a few minutes for the Clydesdale to stand but eventually, it does and walks off to get checked out and make sure everything is ok. From the video, it does look like the Clydesdale is fine which is what we all want to see. But a scary moment for all who were involved with getting the horse back up and moving.
LOOK: Must-do activities at every national park
Stacker
lists the must-do activities at every national park ranked by the annual number of visitors.
LOOK: Route 66's quirkiest and most wonderful attractions state by state
Stacker
compiled a list of 50 attractions--state by state--to see along the drive, drawing on information from historic sites, news stories,
Roadside America
, and the National Park Service. Keep reading to discover where travelers can get their kicks on Route 66.
More From 100.9 The Eagle, The Tri-States' Classic Rock Station