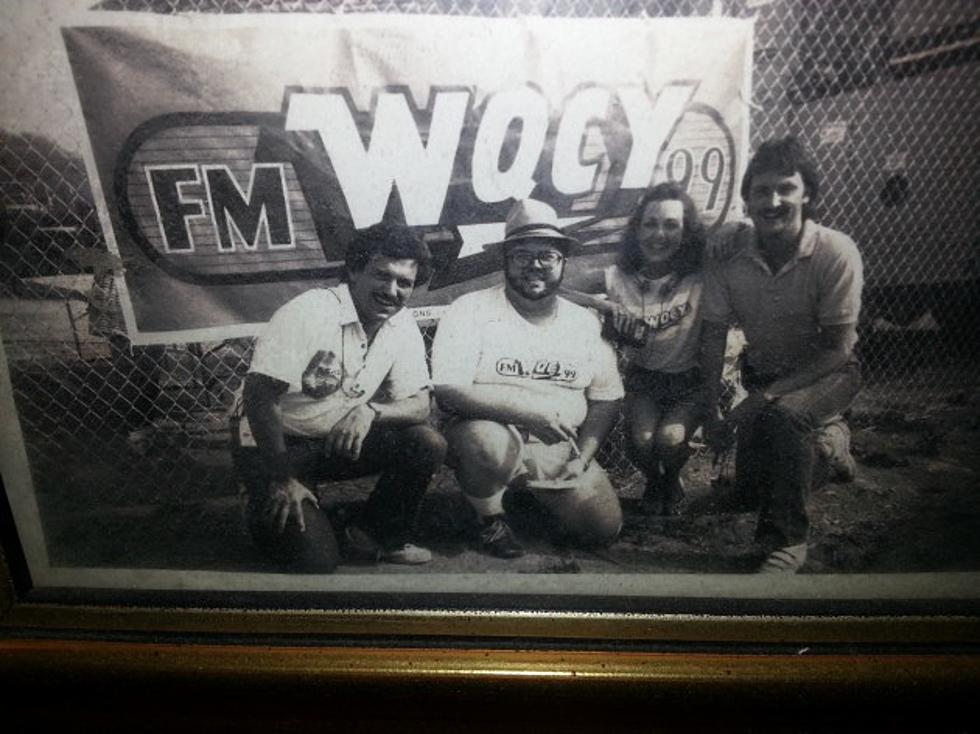 Do You Remember 99Q Radio's Start 35 Years Ago?
Jeff Dorsey, Dave Norman,Liz Lukowski, Dennis Oliver
Tomorrow marks the 35th anniversary that 99Q Radio hit the airwaves of the Hannibal-Quincy area. On April 25, 1985 at 5:30 a.m. WQCY-FM changed its format, as well as my life. The format went from "Easy Listening" to "Top 40″ and with it, a legacy began.
Dennis Oliver was the morning announcer on that first day from 6 to 10 a.m. I would join him on the morning show, but basically I (Jeff Dorsey) worked the 10 to 2 shift. Liz Lukowski took over at 2 and went 'til 6 then David P. Norman was on the air from 6 to 11 p.m. daily with the late Reggie Coleman handling the weekends.
On April 25, 1985, the station went off the air at 1 a.m. and was scheduled to sign-on at 5:30 a.m. And sign-on it did and no one had any idea how their life would be affected. I remember that day like it was yesterday. Many people fell asleep listening to the soft music and woke up when the station came back on at 5:30 a.m. to Bruce Springsteen's "Born in the USA" blasting them out of bed. The phones never stopped ringing for days with people complaining about the music change. But for every complaint there were ten times as many people who loved it and sales took off.
What people didn't know was how much went into making that change possible. The General Manager at that time was John Phillips and he liked the "soft music" format and for those of us who wanted to make the change, the task to convince him to do so was made even harder when we found out his wife loved the station even more that he did. To their credit, Gary Schmedding and Hank Mayhall were the managers who needed to convince Mr. Phillips to make the change and they supported the idea with plenty of reservations.
Stores all over the area were playing the soft music station as background for their shops, but few at the time were willing to advertise on it which eventually led to its demise. Those of us who convinced Gary and Hank that we could make the station money with the change really didn't know for sure. It was a gut feeling that it might work to change the format.
When the decision was made, we spent numerous nights leading up to April 25th when the station was off the air between 1 and 5:30 a.m., practicing for its debut. I was already working for the company and doing mornings on WTAD. Dennis was hired away from KQ102 to join us. Liz left KGRC to join us and I believe Dave came over from KHMO or perhaps KGRC (too many years have passed). Reggie was also working for the company, but primarily for KHQA-TV at the time.
What happened April 25, 1985 was remarkable. We had no idea the area would accept our product the way they did. It seemed like everyone was listening and no matter where we went the station was being heard coming out of car and home radios. Sometimes timing is everything.
I personally was going through a troubling time and my involvement with this station helped get me through it. I worked with Reggie and met Dennis, Liz, and Dave and have remained friends with them all these years. Unfortunately, we lost Reggie in  March of last year. Liz is currently at B103 in Rockford, Illinois and goes by the name of Liz Wilder. You can hear her from 2 to 7 weekdays at B103rockford.com. Dave owns his own radio station in Hannibal (KHBL at 96.9). D.O. is now retired and I just keep plugging along.
We all know what we are doing now, but I am not so sure we knew what we were doing 35 years ago. Looking back 35 years ago, I am sure glad I was a part of it. Does anyone remember those wonderful 99Q days? Please share your memories of the station with us.  I would love to read them.
More From 100.9 The Eagle, The Tri-States' Classic Rock Station