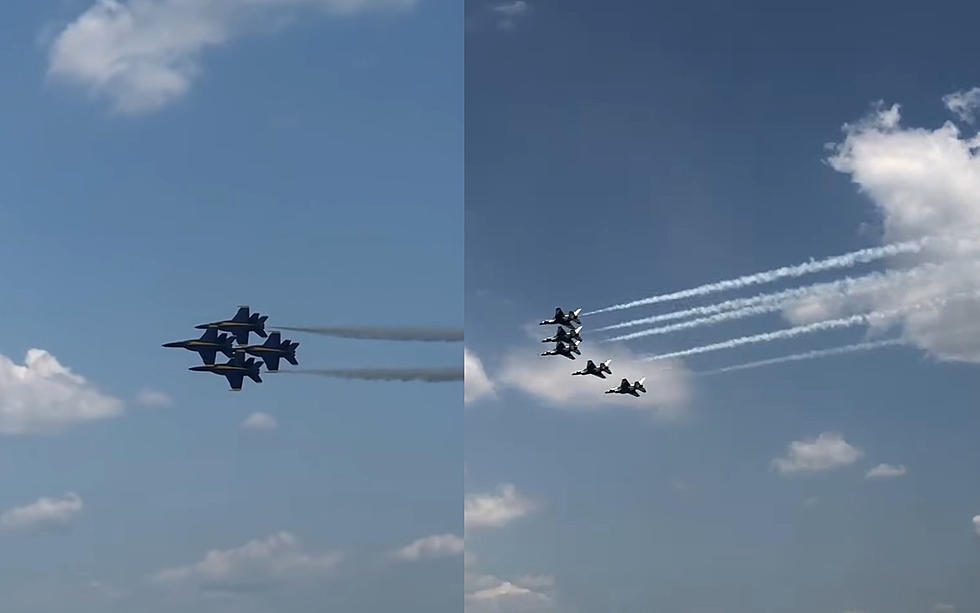 US Air Force Thunderbirds and Blue Angels Fly Over Missouri
kcwes via YouTube
It's a pretty incredible experience if you get to see the US Air Force Thunderbirds perform. The same can be said if you've witnessed the aerial acrobatics of the Navy's Blue Angels. Imagine seeing both teams together. That's exactly what happened over Missouri recently.
Thanks to one of the attendees of the KC Air Show, you can see some of what you missed if you didn't see the Thunderbirds and Blue Angels perform there.
My family saw the US Air Force Thunderbirds six years ago when they performed at a local air show. Days prior to the performance, they flew practice routines over our area and the house would shake during some of their lower altitude fly-bys. I now fully understand why the tower got mad at Tom Cruise in Top Gun. You can feel your ribs shake when they get close enough.
The KC Air Show happened over the 4th of July weekend and it's quite a coup to get the 2 best military flight teams in the world in one place. That's the one benefit of living in the digital world we exist in now. Just about everyone has a phone with a decent camera so we can all experience a little bit of a once-in-a-lifetime aerial combination.
The 100 Best Places to Live in the Midwest
READ ON: See the States Where People Live the Longest
Read on to learn the average life expectancy in each state.