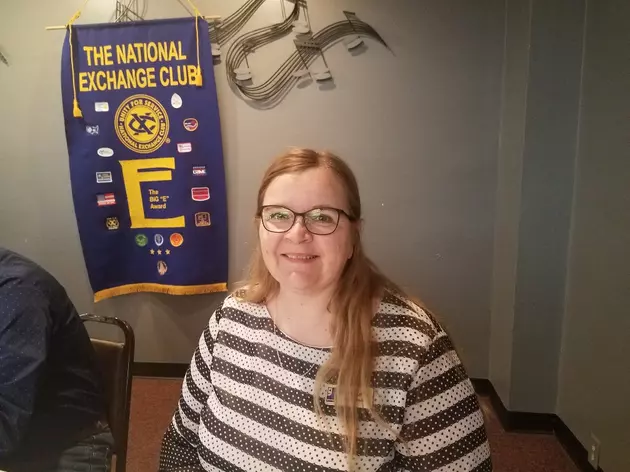 'Stand Down for Veteran's' Event to Be Held October 26 in Quincy
Lisbeth Lefler / Photo courtesy: Jeff Dorsey
Lisbeth Lefler was in Quincy recently and talked at the Quincy Exchange Club about the upcoming "Stand Down for Veteran's" program to assist Veterans.
The Tri-State Veterans Referral Initiative (TSVRI), in partnership with United Way of Adams County and Land of Lincoln Goodwill, will hold a Stand Down on Saturday, October 26 at the National Guard Armory located at 702 Koch's Lane in Quincy. Doors open at 9:30 a.m. Event is from 10:00 a.m. to 1:00 p.m.  The event will feature housing information, V.A. representatives, employment resources, Veteran's organizations, workshops, and camaraderie.
The Stand Down concept originated during the Vietnam War to provide a safe retreat for units returning from combat operations, where troops were able to get cleaned up, enjoy warm meals, receive medical and dental care, and connect with loved ones and fellow soldiers through mail and camaraderie in a safe environment.
Today, Stand Down events are held to offer homeless veterans and those at risk of homelessness Services provided include food, showers, clothing, veterans service organizations, VA benefits and healthcare enrollment, medical and dental screenings, flu shots, suicide prevention, housing resources, legal resources, employment and training resources, community agencies serving veterans.
Some interesting statistics include: On any given night, more than 39,000 veterans are homeless.  Only 62% of those veterans are sheltered. Approximately 1-in-10 homeless veterans are female and more than 1.4 million veterans are on the verge of homelessness on any given day. The T.S.V.R.I. serves 27 counties in Illinois, Iowa and Missouri all within approximately 50 miles of Quincy.
More From 100.9 The Eagle, The Tri-States' Classic Rock Station