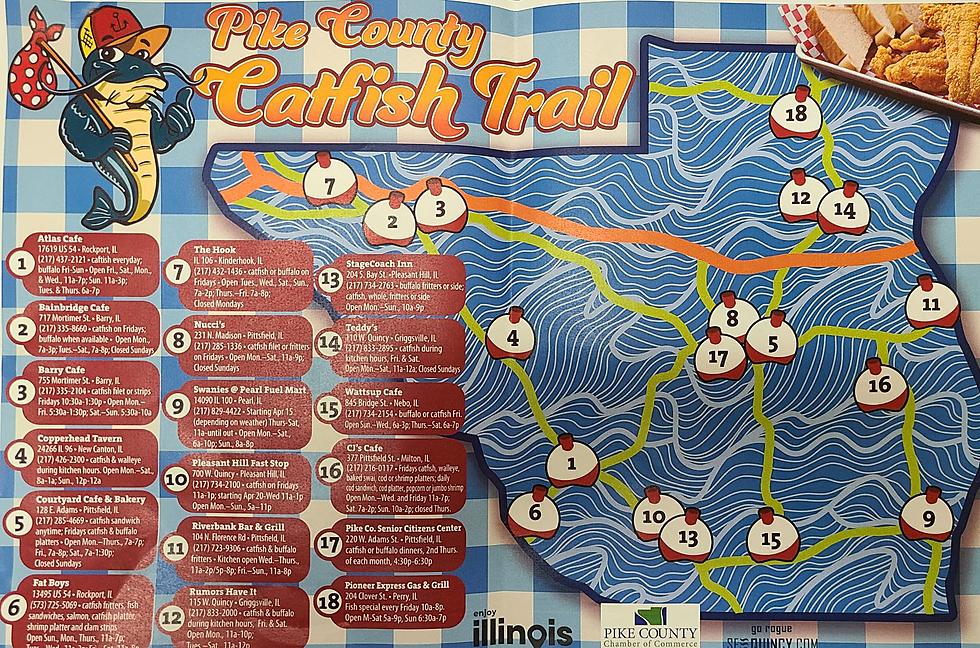 Fish for Lent? Hit the Tri-County Catfish Trail Now Thru June 3
TSM Photo
Recently on these pages, I passed along information on the Pike County, Illinois Catfish Trail.
I have learned that I didn't know the half of it.
The Pike County Chamber of Commerce has now partnered with the Quincy Area Convention and Visitor's Bureau for what is now known as the Tri-County Catfish Trail.
Timed to coincide (sort of) with Lent, the Catfish Trail began February 25 and runs through June 3.
If you were part of the Pike County Tenderloin Trail last fall, you know the basics - pick a  place to start, enjoy your catfish, pick up your map/placemat and your punchcard, take your selfie with your dinner, post it on the Trail's Facebook Page, and get ready to hit the trail.
To be eligible for this round of "fabulous prizes," you visit at least nine of the participating businesses, get your placemats initialed, your punchcards punched, and mail them to the chamber/CVB offices in Pittsfield or Quincy.
The thing to remember on the Catfish Trail is that there are a number of places that only serve fish on Fridays. So, if you want to make a trail stop on a day other than Friday, you might want to call ahead.
Here is a list of the stops on the Catfish Trail. Those marked with an asterisk are the places that don't have fish every day:
Adams County
Bailey House – Camp Point
The Bar & Family Dining – Mendon
Blue Haven Café – Quincy Regional Airport
BoodaLu Steakhouse – Quincy
Coach House – Quincy
*Eagles Club – Quincy
*The Grove – Quincy
Kelly's – Quincy
*Knights of Columbus – Quincy
Mendon Diner & Tap – Mendon
Mr. Bills – Quincy
O'Shea's – Quincy
Paloma Diner – Paloma
The Patio – Quincy
Riverside Smoke House & Grill – Quincy
*The Score Board – Quincy
Silver Dollar – Quincy
Sprout's Inn – Quincy
State Street Bar & Grill – Quincy
Tasty J's – Quincy
*Tangerine Bowl – Quincy
Texas Roadhouse – Quincy
Tony's Too – Quincy
Hancock County
*DJ's Bar & Grill – Warsaw
Hotel Nauvoo - Nauvoo
*MJ's Bar & Grill – Carthage
Warsaw Brewery – Warsaw
*The Wood Inn – Carthage
Pike County
Atlas Café – Atlas
*Bainbridge Café – Barry
*Barry Café – Barry
*CJ's Café - Milton
Copperhead Tavern – New Canton
Courtyard Café & Bakery – Pittsfield
Fat Boys – Pike Station
*The Hook – Kinderhook
*Nucci's – Pittsfield
Swanies at Pearl Fuel Mart – Pearl
*Pike County Senior Citizens Center – Pittsfield
*Pioneer Express Gas & Grill - Perry
*Pleasant Hill Fast Stop – Pleasant Hill
Riverbank Bar & Grill – Florence
Rumors Have It – Griggsville
Stagecoach Inn – Pleasant Hill
Teddy's – Griggsville
*Wattsup Café - Nebo
Pike County IL Tenderloin Trail
LOOK: Here are the 10 US golf destinations with the most courses per capita
Discover where you can find the best access in the country for your pick of courses, the unique terrain that lends itself to world-class golf, and what makes select clubs noteworthy.
More From 100.9 The Eagle, The Tri-States' Classic Rock Station