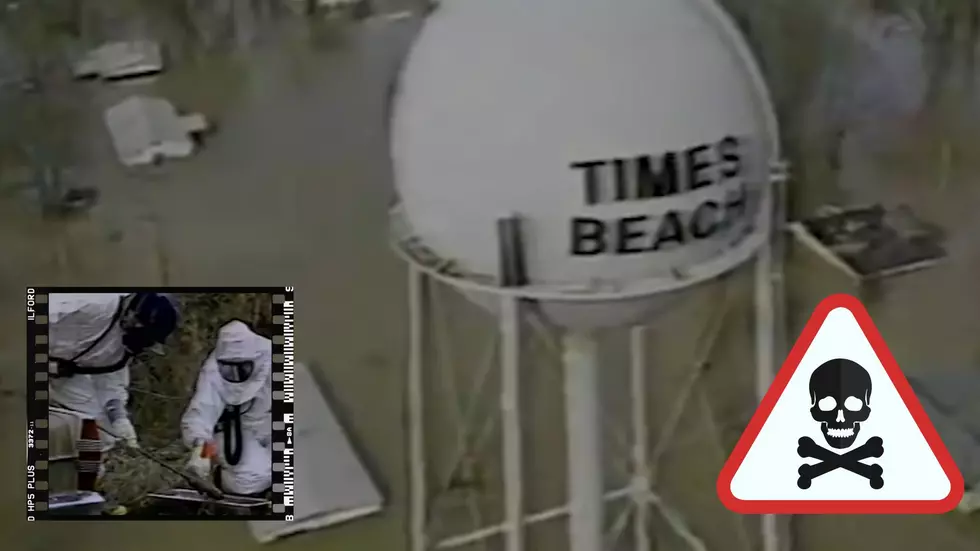 40 Years Ago, Missouri Town Learned It Had Been Living on Poison
AustinMcConnell via YouTube/Canva
This year marks the 40th anniversary of a sad story that many claim now has a happy ending. It didn't feel that way back in 1983 when residents in a Missouri town learned they had quite literally been living on poison.
Times Beach, Missouri as it was known prior to 1983 is no more. What began as a hopeful resort town not that far from St. Louis ended with residents learning that deadly chemicals had been dumped in their waters and soil. The Environmental Protection Agency has a timeline of how dioxin ruined a community.
Let's rewind a bit. It was back in the 1960's that a company in Verona, Missouri produced Agent Orange that was used as a weapon in Vietnam. The company was Hoffman-Taff. Russell Bliss who was hired by Times Beach to spray their streets to reduce dust was hired by Hoffman-Taff to clean dioxin from their tanks. According to the EPA article, he eventually sprayed 25 locations in and around Times Beach with what was later learned was a toxic poison mixture.
In 1971, children and animals started getting very sick. That led to a Centers for Disease Control investigation that eventually connected dioxin to the illnesses 3 years later. Then came the terrible flood of 1982.
The residents of Times Beach, Missouri were left without homes and the government announced they would not return to their homes for fear of the spread of the dioxin in the soil and the frequent flooding.
The residents of Times Beach then realized they had been living on poison for a decade and they say the government knew about it and didn't tell them. 800 families were now forced out of their homes and the town.
It was on February 22, 1983 that the EPA announced a super fund would buy out all the properties of Times Beach. They estimate within 2 years all residents had relocated to new homes in new towns.
The story of Times Beach, Missouri doesn't end there. The American Medical Association blamed the media for blowing the dangers of dioxin out of proportion. They say no residents were diagnosed with acute dioxin-related poisoning and the relocation may not have been necessary after all.
No matter who's narrative you believe, the legacy of Times Beach, Missouri was tragic at the time for families who suddenly had to find new homes. However, the EPA champions the cleanup efforts that have revitalized what used to be Times Beach into the Route 66 State Park. The area has certainly come a long way back from that dire scene 40 years ago.
Inside Kansas City Chiefs QB Patrick Mahomes Insane Shoe Closet
More From 100.9 The Eagle, The Tri-States' Classic Rock Station